Butte Fire Cleanup Continues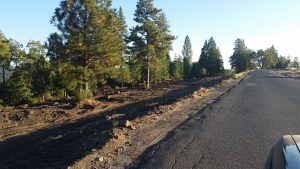 Butte Fire dozer work on Fullen Road

View Photos
Mokelumne Hill, CA — 14 debris removal teams are currently working to clean-up wreckage left from the Butte Fire. Calaveras County officials report that work at 26 of the 630 properties in the program have been completed. This week the crews are working in western and central Jesus Maria, as well as Old Gulch, Wendell and Mokelumne Hill.
On a related note, state and federal Environmental Protection Agency representatives have already removed household hazardous waste material, considered a more urgent need, at 610 properties. Air and soil continue to be sampled to ensure contaminants are contained, with no airborne contaminants detected to date.
Residents can be expected to see continued heavy equipment in the region where the Butte Fire burned.