Shoring Up Possible Butte Fire Flooding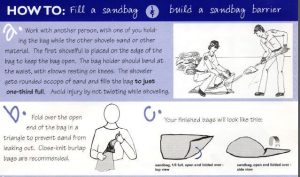 Sandbag diagram

View Photos
San Andreas, CA — With rain in the forecast for Wednesday, Calaveras County officials are offering protection to those in the Butte Fire footprint in the form of sandbags.
The Calaveras County Public Works Department has opened a sand bag station in Mountain Ranch to assist in flood control for structure protection. This service is free to County residents with proof of residency.  Department officials recommend residents fill and install sand or gravel bags before the storm brings possible heavy rain to the area.
Individuals can get up to 20 free bags at the filling station located at Mountain Ranch Community Park on Washington Street today and Wednesday from 7:30 a.m. to 5:00 p.m. County officials report residents can get more bags if needed, but must bring with them photos showing where and how they will be used. (For a flyer on flooding protection click here Flood Fighting Flyer)
Additionally, the Calaveras County Sheriff's Department this afternoon issued a public notice to residents warning of the increased risk of flooding, debris flow and mud slides. It cautions resident that there may be road closures in the wake of the rainfall as well.