Californians Rate Potential Gubernatorial Candidates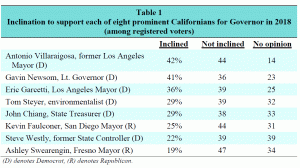 Governors Race Field Poll

View Photos
Sacramento, CA — A recent Field Poll gauged the support of eight potential candidates for Governor in 2018.
Governor Jerry Brown will be termed out, so the field will be wide open. A random sampling of likely voters were given the names of the eight potential candidates and asked if they would be "inclined" to support the individuals. Six of the prospective candidates were Democrats and only two were Republicans. 42% of those surveyed said they would be inclined to support former Los Angeles Mayor Antonio Villaraigosa (D), 41% for Lt. Governor Gavin Newsom (D), 36% for Los Angeles Mayor Eric Garcetti (D), 29% for environmentalist Tom Steyer (D), 29% for State Treasurer John Chiang (D), 25% for San Diego Mayor Kevin Faulconer (R), 22% for former State Controller Steve Westley (D), and 19% for Fresno Mayor Ashley Swerengin (R).
When taking in the results of only the Democrats surveyed, 60% said they are inclined to support Newsom and 58% for Villaraigosa. Polling only Republicans, Faulconer ranked the highest with 49% and Swearengin was second with 38%.