High Scoring Action On The Gridiron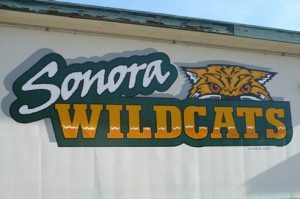 Sonora High School

View Photos
Racking up 50 plus points, three teams dominated their opponents in week eight of the High School Football Season.
For a second week in a row, the Wildcats put up over 50 points on the scoreboard. Sonora was on the road but kept their eye on the prize, clinching a share of the Mother Lode League Title, and blew past Amador. Wildcat Brett McCutchen took the ball 51-yards to win the game with the final, 56 to 27.
Calaveras proved too much for Summerville who was playing on its own turf. The Bears had a couple chances to punch the pigskin into the end zone but fell short turning the momentum and ultimately the victory over to the Redskins 55 to 20.
Meanwhile, the Bullfrogs also scored big in front of the home crowd defeating Riverbank  58 to 6.