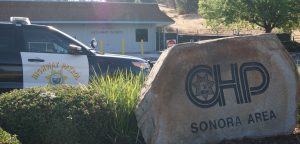 Sonora CHP Unit

View Photos
Jamestown, CA – The CHP arrested a Modesto man for DUI in Sonora but not before his vehicle hit a pole and a fence near a local elementary school in Jamestown.
A caller alerted officers to a vehicle weaving all over Highway 108 in Jamestown around 3 p.m. The CHP reports 24-year-old Matthew Marsh was driving a Ford Thunderbird on 5th Avenue when the car hit a pole bringing down phone lines near Jamestown Elementary.  The car then turned onto 7th Avenue and smashed into a fence. Marsh then made a U-turn and traveled back onto the highway heading towards Sonora.
The CHP had put out a Be-on-the-Lookout for the Thunderbird, which a Tuolumne County Sheriff's Deputy spotted on the highway. He pulled Marsh over behind the Walmart without incident.  The deputy notified the CHP.  Once on the scene, an officer conducted a Field Sobriety Test and subsequently arrested Marsh for Driving Under the Influence.