SRMC Expansion Relocates Outpatient Lab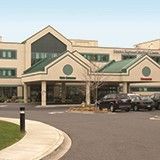 Sonora Regional Medical Center

View Photos
Sonora, CA — Expanding needs at Sonora Regional Medical Center have more room to move as its outpatient lab opens Monday in a new space.
Located above Community Pharmacy on the second floor of the professional center, adjacent to the hospital, the street address for the new, larger lab facility is 900 Greenley Road, Suite 250.
Beginning Monday, hospital officials advise all outpatients, including those used to registering in the main hospital lobby near the former lab, to head directly to the new space, where they will be greeted with new amenities that include a large reception and registration area, waiting room and lab draw area. According to Gail Witzlsteiner, SRMC development and public relations director, patients can also expect shorter wait times, as the lab now boasts its own registration staff.
Of the new facility, Witzlsteiner states, "It will be convenient — it will be different, because many of our patients are used to obtaining that service in the same location for the last number of years, so it will be a change but it is going to be very pleasant."
Plans are for the lab to relocate over the weekend in time to open for business as usual on Monday morning. Planning for the move, as Witzlsteiner explains, has been several months in the making in order to create room for the expansion of the center's Emergency Department, due to increasing community needs that have grown beyond the service capacity of the current space. She adds that the work necessary to convert the old outpatient lab will occur in phases over the next year.
Outpatient lab clients should note that the new lab is retaining the same operational hours as its predecessor: Monday through Friday from 7 a.m. to 6 p.m.; and Saturdays from 8 a.m. to 2 p.m. For more information, call 209 536-3600.