Commission Approves New Communications Tower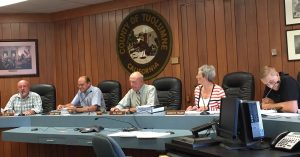 Tuolumne County Planning Commission

View Photos
Columbia, CA — The Tuolumne County Planning Commission has approved plans for a new 80 ft. tall tower that will benefit Verizon customers.
The plan was approved last night for the 14000 block of Camage Avenue. It will replace the existing 20 ft. tower at the site. Deputy Community Resources Agency Director Mike Laird notes that the commission put some conditions on the project. He says, "One of the requirements is that the tower will be painted green, so that it will be more hidden from view. Another had to do with safety fencing so that people can't climb up the tower."
The commission also laid out the rules and procedures for a future public hearing on Dollar General's plans to open in Columbia. Laird notes, "The rules they (planning commission) established are that staff will present the project, the commission will then ask questions of staff, and then everyone speaking will get three minutes, whether they are speaking in favor of the project, in opposition, neutrally, in rebuttal, or in sir rebuttal."
Laird notes that a date has not been set for the Dollar General hearing, but it will likely be held in December. The reason there is not a firm date is that the county is still working to respond in writing to responses that have been submitted in relation to the project's environmental documents. Around 200 letters of feedback were submitted to the county.