$128,000 Raised For SRMC Cancer Center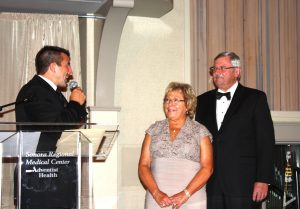 SRMC President and CEO Andrew Jahn presents Irving J. Symons Award To Suzy and Bill McEntire

View Photos
Sonora Regional Medical Center has tabulated all the money raised during Sunday's Joie de Vie Gala held at Ironstone Vineyards.
Over $128,000 was raised for the new Cancer Center that is being constructed at the former Andy's Home Center site on Mono Way. "It was heartwarming to witness the outpouring of support from our community," says Gail Witzlsteiner, director of SRMC's foundation. "The Joie de Vie Gala Committee worked very hard this year to raise $28,455 at the silent auction. Guests seemed to enjoy themselves and we raised money for a very important cause."
All funds raised go toward the $3-million Capital Campaign for the new Cancer Center. At the event, SRMC President and CEO Andrew Jahn noted that $2.4-million has been raised to this point.
The Irving J. Symons Award was presented to Bill and Suzy McEntire. The couple moved their semiconductor company to Tuolumne County in 1988, and have been leaders in both the private and non-profit sectors. Past recipients of the award have included Irving Symons, Frank Salel, H. Randolph Holder, Robert Culter, Pete Kerns, Pete and Sue Kleinert, Joe Martin, Chuck and Willy Evans, Mary Laveroni, Pat and Dusty Rhodes, Ty Wivell and Dick Pland.