Fiber Optics Installation To Snag Sonora Traffic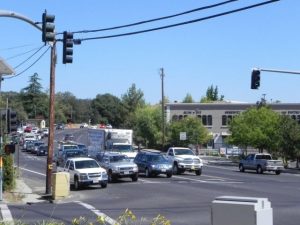 Mono Way at the Greenley Road intersection

View Photos
Sonora, CA — A week's worth of installations work under a Sonora secondary road is likely to cause some motorist delays.
Beginning Thursday morning, according to AT&T subcontractor Lompoc-based Dts Telecom, work crews will be installing pipe and then fiber optics at approximately 40 locations underneath Mono Way, between Greenley and Peaceful Valley roads as well as under Sanguinetti Road.
Dts crew lead, Luke Overman indicates that the work is scheduled to occur daily through Friday, Oct. 30 between the hours of 7 a.m. and 5 p.m. He states that some of the activities will require intermittent set ups of one-way traffic control and there are no plans at any time to completely shut down any stretch of the roadway.
Making time before the highly anticipated rainy season, Caltrans has several work zones in place this week as well; some of them are generating delays of ten minutes or more at times. For the round up of impacted routes, click here.