Update: Three Dead In Rail Road Flat Shooting Incident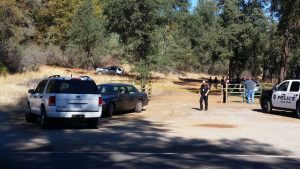 Law Enforcement Activity In Railroad Flat

View Photos
Update at 2:15pm: Rail Flat, CA — The Calaveras County Sheriff's Office is on the scene of a shooting with three people found dead. Sheriff's officials received several calls reporting gunfire in the Rail Road Flat area this morning, at around 9:30am. When deputies arrived on scene they located three bodies. An investigation is ongoing. No further information is immediately available from the Sheriff's Office. We will continue to pass along more information as it comes into the news center.
Original Story at 1:30pm: Calaveras County Sheriff's office and other local law enforcement agencies are on the scene of what appears to be a notable criminal investigation in Rail Road Flat.
Calaveras County Sheriff's Office spokesperson Sgt. Anthony Eberhardt was not immediately available for comment. The pictures in the upper left box were taken from the area of Doe Road in Rail Road Flat. You'll want to avoid the area.
An official with the Calaveras Unified School District told Clarke Broadcasting that teachers at Rail Road Flat Elementary were told to lock students in their rooms briefly as administrators checked with the Sheriff's Department regarding some type of an incident nearby. School administrators say they were then told by the Sheriff's Department that there was no need to lock down the school.
We will bring you more details as soon as they come into the newsroom.
A special thanks to community news partner C. Marcum Kelly for sending in the photos. Pictures can be emailed to news@clarkebroadcasting.com