Search And Rescue Recovers Injured Prospector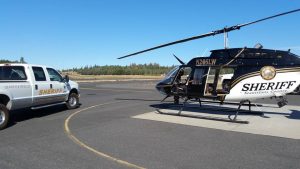 Tuolumne County Sheriff's Dept. Search and Rescue and Stanislaus County Sheriff's Dept. Air Operations Team Helicopter at Columbia Airport

View Photos
Columbia, CA – Two Sacramento men looking for gold in a local creek bottom found trouble instead on Sunday afternoon after one misstepped and broke an ankle.
According to Tuolumne County Sheriff's Department spokesperson Deputy Rob Lyons, by Monday morning at 10, the hobbled prospectors' plight was over. The pair had hiked into the Rose Creek drainage near the Stanislaus River by Camp 9, a steep rocky area, Lyons states. He recounts that the distress call came in Sunday night around 8, after the injured man's friend was finally able to find a viable location for making a 911 call on his cell phone.
Several agencies responded, Lyons says, including search and rescue teams from both Tuolumne and Calaveras counties as well as the Stanislaus County Sheriff's Office Air Operations Team, which came out with a special night vision-equipped helicopter that landed on a sandbar within the river canyon that would have been typically underwater if not for the prevailing extreme drought conditions.
Over the next three hours, rescue operations continued; however the narrow canyon top above the area ruled out executing a hoist or harness retrieval. As the victim, 52-year-old Greg Walker, was determined to be stable and did not have a femur fracture the team waited until daylight to safely extract him.
Walker was subsequently flown to Columbia Airport, Lyons summarizes, where family members met and drove him privately for medical treatment.