Proposed Ordinance Aims To Help Displaced Butte Fire Residents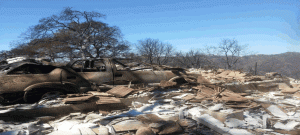 Butte Fire Debris

View Photos
The Calaveras County Supervisors have only two items on Tuesday's meeting agenda, and both are related to Butte Fire.
The first item will be a presentation from Board of Supervisors Chairman Cliff Edson, and various department heads, on the current Butte Fire recovery efforts. The second item is in relation to allowing residents impacted by the fire to reside in temporary housing on their property. The county's current zoning code prohibits residents from sheltering in temporary structures on properties for extended periods of time. The ordinance up for discussion would allow residents to stay in temporary structures on their property, only during times of a local disaster, so that they can rebuild their homes. A fear in not passing the emergency ordinance is that several displaced homeowners will have to find shelter outside the region, and many may not be able to afford to do so.
Tuesday's meeting will begin at 9am at the Calaveras County Government Center on Mountain Ranch Road in San Andreas.