Edson Warns Of Erosion From Butte Fire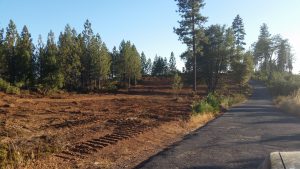 Butte Fire dozer work on Fullen Road

View Photos
San Andreas, CA — Following the Butte Fire, several hard hit areas of Calaveras County will need to be on high alert when the heavy rainfall first arrives.
Board Chair of the Calaveras County Supervisors Cliff Edson says, "The ground right now has been burned severely, and there are virtually no nutrients in a lot of it. CAL Fire has gone out and put seed in it, but during the first couple of rains, it probably won't germinate. It's really going to take a couple of rains for it to get in the right shape to be able to get the seeds to start. So, if we have a significant rain, there's going to be some serious issues."
Edson says residents living near creeks should especially be on alert, and pay attention to information released by local officials. The county is in the process of identifying the areas of highest concern. Much of the heaviest destruction to homes was in Mokelumne Hill and Mountain Ranch.
Edson says he is working towards getting a couple of communication towers up near the hardest hit areas so that residents will have better cell and internet coverage in the event of an emergency.
"People need to put it in their mind that it could happen, and be prepared," he adds.
The Butte Fire ignited on September 9th and burned 70,868 acres. 475 homes were destroyed and there were two fatalities.