Verizon Eyes New Tower: Procedures For Dollar General Hearing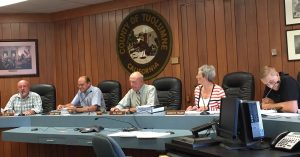 Tuolumne County Planning Commission

View Photos
Sonora, CA — The Tuolumne County Planning Commission will discuss a couple of notable items at its meeting next week.
The first is to set the rules for a future public hearing on the planned Dollar General store in Columbia. Community Resources Agency Deputy Director Mike Laird says the county is anticipating a large crowd will be on hand when the company's application for a site development permit and conditional use permit goes before the commission. In preparation, the planning commission will set rules for the hearing beforehand regarding how the public comment period will be set up, how much time individuals will have to speak, etc. An opposition group has formed in response to the Dollar General proposal, and it has argued that the store does not fit along the historic corridor. An actual date for the Dollar General public hearing has not been set, but Laird predicts it could come around December.
In addition, the commission will vote next week whether to issue a conditional use permit for a new 80 ft. tall monopole tower with 12 antennas, equipment shelters and related equipment. It would be built at 14971 Camage Avenue. Following Verizon's purchase of Golden State Cellular, the company is in the process of updating equipment in Tuolumne County. The plan is to replace an existing 20 ft. tower at the site with the larger 80 ft. version.
The Planning Commission meeting will start at 6pm on October 21st in the Board of Supervisors meeting room.