Yosemite's Plans For Burning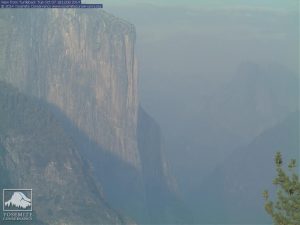 Yosemite Webcam - Smoke Visible

View Photos
Yosemite, CA – Smoke may soon be seen over Yosemite National Park starting in mid-October, but these fires are planned not wild.
Shorter days and cooler temperatures have allowed park fire managers optimal burning conditions. A prescribed burn schedule has been released with the first fire sparked for the 111 acres Taft Toe Project. The burn, located along Southside Drive between El Capitan Bridge and the Sentinel Beach picnic area, is expected to last two to three days.
Park officials say the primary objective of the burn is to reduce the amount of excessive fuel build-up. Smoke from the fire may be visible in Yosemite Valley, Foresta, and the El Portal area. The burn will be done weather permitting. Park officials note that a smoke monitor will be placed in nearby communities to monitor conditions. 
Here is the park's list of other proposed prescribed burn projects through the fall and into the winter: The Mariposa Grove in October; Soupbowl near Wawona along the road in November and then interior in the winter; Ahwahnee Meadow in late October; Crane Flat in the winter; Yosemite West maintenance burning in November; and the Merced Grove area in the winter.