Summerville Prepares To Host Sonora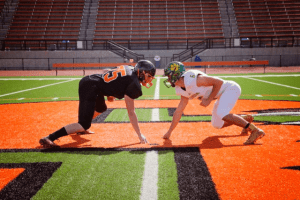 Summerville Vs. Sonora

View Photos
Tuolumne, CA — It is a big night for high school football as Sonora travels to Summerville for an inter-county rivalry game.
Sonora enters the game with a record of 5-1 and Summerville is 3-3.
A notable thing to keep in mind is that ticket sales are being capped at 2,500. Superintendent Robert Griffith says the stadium holds 1,700, so he encourages people to consider bringing lawn chairs. An allotment of tickets were given to both Sonora High and Summerville High, and the remaining will be sold at the box office, which opens at 4:30pm.
Griffith says the decision to cap attendance was made prior to the recent thwarting of a mass shooting on campus, so it is unrelated. He adds, "This is the first time that Sonora and Summerville have played each other up in Tuolumne in many, many years. Although our stadium holds more people now, with the growth of the county since 20 years ago, it creates a space situation."
Officials at Sonora High could not be reached for comment on the limited ticket sales and its impact. There will also be extra security on hand tonight. The game starts at 7:30 and you can hear it live on Star 92.7 and 93.5 KKBN.
In other high school football action Bret Harte will travel to Linden and Calaveras High is at home against Argonaut.