2nd Saturday Art Night And Butte Fire Connections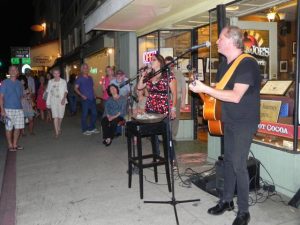 Musicians in Sonora

View Photos
The Sonora Chamber of Commerce's 2nd Saturday Art Night continues tomorrow night in downtown Sonora.
B.Z. Smith, founder of 2nd Saturday Arts Night, was Friday's KVML "Newsmaker of the Day".
Smith stated, "Last month we were supposed to have a Summer Send Off Dance with the Jank Tones as part of our After 8 series. After 8 is an additional event after the Arts Night, which runs from 5 – 8 pm. The dance was going to be held outside. However, last month with the abysmal air quality due to the Butte Fire, we postponed it. Fortunately, the Jank Tones were available again for tomorrow night, so we will use this opportunity to say goodbye to Summer and hello to Autumn. It will be held at Coffill Park. There is a $5 cover charge and the event is limited to those who are 21 and over as there will be a beer and wine garden."
Tomorrow night (Saturday October 10th) will be Art Night #62.
It began in 2010 with six art galleries and about one hundred and fifty people. According to Smith, the monthly amount of participating merchants has grown and the crowds have grown to an estimated eight hundred to one thousand people.
Musicians perform mostly free of charge. Tip jars are available for appreciative audiences. The musicians, of every genre of music, can be found in clothing stores, art galleries, restaurants and outside on the sidewalks of downtown Sonora.
2nd Saturday Arts Night also gives merchants in downtown Sonora a chance to showcase their stores, often with special sales or incentives to come inside.
Next month, on November 14th, a special After 8 "Butte Fire" concert will take place in the Red Church. This will be a benefit for victims of the Butte Fire.
"We're having a concert with the Mountain Melody Women's Chorus of Calaveras County at the Red Church. Four of these women lost their homes in the fire, including the choir director, said Smith. "This will also be our first time to include The Red Church in 2nd Saturday Art Night."
Finally, Smith said that the Mother Lode Storytelling Guild is hosting its 2nd Story Slam on Friday, October 16th, from 7pm to 9:30pm at the Old Schoolhouse in Murphys.
If you would like more information, write to Smith at bzsmith@me.com