Review Rim Fire Resilience Bid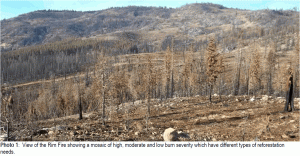 Rim Fire Burn Area

View Photos
Sonora, CA — The public will get a chance to review and chime in on the National Disaster Resilience Competition (NDRC) Phase II application for federal funds online and in person.
At stake is $100 million for the county to put towards Rim Fire recovery. Tuolumne County was the sole applicant offered by the state to compete for the federal dollars. As previously reported, the county has already made it through the first two phases of the competition. The next step is get feedback from the public on the draft, which is available here. Deputy County Administrator Maureen Frank urges, "Read over the phase II application…give us your comments…ask us questions and continue the conversation on resiliency." She says that those comments can then be added to the draft and may be incorporated into the final document.
There are also two public hearings scheduled for next week listed below:
Groveland:
Groveland Community Center
18720 Highway 120
 Wednesday at 4 p.m.
Sonora:
 Tuolumne County Board Chambers
2 South Green Street
Thursday at 6 p.m.
Frank reports the application deadline is October 27 with the funds being awarded sometime in January of 2016.