Chase Ends With A Shooting In East Sonora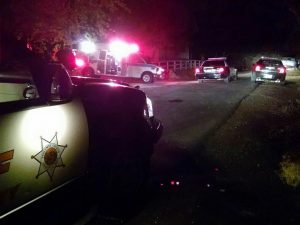 Motorcycle chase and arrest

View Photos
Sonora, CA — A man led law enforcement on a chase around one this morning and was shot by a homeowner after he forced his way into a house – now both men are behind bars.
Tuolumne County Sheriff's officials report a deputy initially tried to pull over Brian Reynolds of Placerville for driving a motorcycle erratically on Mono Way near Standard Road. Instead, Reynolds took off with the deputy taking chase toward Cavalieri Road. Sheriff's spokesperson Deputy Rob Lyons says, "The pursuit went on for a very short amount of time…the motorcycle went out of sight…ultimately, we got a call a short time later that a fight had taken place at a house where the motorcyclist had ended up…he [Reynolds] was shot by the homeowner."  The homeowner was James St. Clair, who shot Reynolds with a 9mm pistol in self-defense according to detectives. As to whether the two knew each other, Lyons responded, "They may have been aware of each other…I'm not sure to what degree — that part is still under investigation."
Reynolds, suffering from a bullet wound to his wrist, was flown to a Modesto hospital. Once treated, he was arrested. However, in a ironic twist, St. Clair was also arrested after detectives discovered he is a felon, as felons are not allowed to possess firearms. The motorcycle Reynolds had been riding before his arrest was later found in some bushes on Cavalieri Road.