Property Acquisition On Sonora City Council Agenda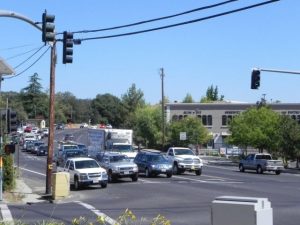 Mono Way at the Greenley Road intersection

View Photos
Sonora, CA — The Sonora City Council will break into closed session this afternoon to negotiate the price for acquiring the property at 852 Mono Way that houses the Chevron station.
The acquisition is needed to widen Greenley Road at the Mono Way intersection. The project is notably being planned in anticipation of Sonora Regional Medical Center building its new cancer center. The negotiations will be carried out behind closed doors starting at 4:30pm. If any action is taken, it will be announced immediately afterwards.
During the open regular session meeting at 5pm, the Council will debate whether to rezone some parcels of property at 647 and 677 South Stewart Street from the current Commercial status to Multifamily Residential. The Council will also hear an earlier postponed presentation from the Sonora Chamber of Commerce about city funding for a planned "Sonora Signature Events" series in 2016.  Both of today's meetings will be held at City Hall.