Grape Stomp Aids Butte Fire Survivors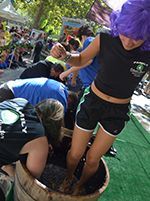 Calaveras Grape Stomp

View Photos
Murhpys, CA – The Calaveras Grape Stomp and Gold Rush Street Faire offer two ways to help those impacted by the Butte Fire by donating proceeds from the event.
Sarah Reed with the Calaveras Wine Grape Alliance explains, "We do a logo t-shirt every year…this year, on the back, we also have a Butte Fire logo.  There is also have silent auction…the proceeds from both are going to go to disaster relief."
Reed shares that, luckily, only about one percent of the vineyards in the county were destroyed or damaged by the flames out of the total 900 acres of grape vines planted.  She adds that this week is the tail end of the harvest, which with the heavy fire season combined with the lingering drought has actually fared pretty well.  Reed states, "All of the quality of the grapes in the county are fine…we just got less. There's a little bit of smoke taint on certain blocks [sections in the field]."  Adding that in terms of the drought, Reeds says, "Less water means that the grapes have to struggle more and the flavor becomes more concentrated."
Reed notes that overall this crop of grapes is expected to create a great vintage.  The event runs until 5 p.m.