Seasonal News From New Melones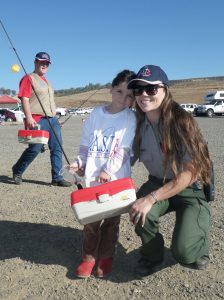 CAST (Catch A Special Thrill) Kids Fishing Fun Fair Participant

View Photos
Sonora, CA — As the season changes, so do hours at New Melones Lake for which park officials share the latest campground closures — as well as reminders about a temporary campfire ban and upcoming kids' fishing event.
For maintenance and natural resource recovery purposes, the Bureau of Reclamation's scheduled annual recreation area closures at New Melones Lake that went into effect earlier this week will remain in place through March 2016.
Now closed in the Tuttletown Recreation Area are Chamise and Manzanita campgrounds and Oak Knoll group camp. Due to the extremely low water level, the Tuttletown boat launch remains closed until further notice. All other Tuttletown locations are open year-round. In the Glory Hole Recreation Area, the Big Oak Campground, Ironhorse Campground sites 8-22, 45-59, and 70-89 and Osprey Point day use area are now closed for the season. The Angels Creek boat launch and parking lot remains due to low water. All other Glory Hole locations are expected to remain open.
Until further notice, campfires in all of the campgrounds and day use areas are under a temporary ban as the area is now experiencing high fire danger from the drought conditions. Visitors may use the provided onsite barbecue grills as long as they contain their cooking fires within the stationary barbecue units, rangers say. Similarly, the use of portable propane barbecues is permitted as long as all burning materials remain inside.
Currently, gates for both recreation areas close at 10 p.m. but beginning Thursday, Oct. 15, through the end of March, they will close at 9 p.m. The Visitor Center & Museum's fall-winter seasonal hours, now in place are Thursday through Sunday from 10 a.m. to 4 p.m., as staffing allows. The administration office is open weekdays from 8 a.m. to 4:30 p.m. For details on activities, pet restrictions or other questions, call the center at 209 536-9543 or office at 209 536-9094. Or click here.
Reclamation's Central California Area Office is sponsoring a CAST (Catch a Special Thrill) for Kids free event on Saturday, Oct. 10, from 8 a.m. to 2 p.m. at New Melones' Mark Twain Recreation Area. Geared for special needs kids ages 5 through 16, the event requires pre-registration. For more information or to support the event as a volunteer or contributor, call 209 536-9094.