Butte Fire Changing Of The Guard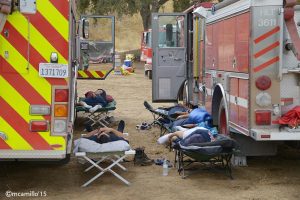 Firefighters receive needed rest at Butte Fire Base Camp in Angels Camp

View Photos
San Anderas, CA — The local Amador-El Dorado and the Tuolumne-Calaveras Cal Fire units are once again in charge of battling the Butte Fire.
The transition from a Type I Incident Management Team was made Monday, according to Cal Fire Capt. Mike Molher. He states, "A Cal Fire Type III Incident Management team is here locally to finish out the remainder of the incident, which would include not only continuous mop up, but also fire suppression repair and erosion repair."
Additionally, the base camp at the Calaveras County Fairgrounds in Angels Camp has moved to the former Wendell's Restaurant on Highway 49 in Mokelumne Hill. The number of personnel has been reduced to 537. Mohler adds, "They will not be sleeping there. Our crews are no longer on 24-hour shifts, they are now on 12-hour shifts." Current resources on scene include 28 engines, 2 water tenders, 14 hand crews and 7 dozers. At the height of the fire, there were 4,961 fire personnel battling the blaze, far outnumbering the population of Angels Camp, which at the last census was at 3,835. At that point there were also 519 engines, 60 water tenders, 92 hand crews and 118 dozers along with 18 helicopters and 8 air tankers in the skies.
The fire footprint has received nearly 24 hours of rainfall overnight Wednesday into Thursday, which Mohler says is welcome, but did bring worries of possible flooding. Happily he reports, "Even with this past rain event, we have not had any issues with any type of slides or erosion-related areas."
The Butte Fire remains 96% contained at 70,868 acres. Mohler comments full containment is on schedule for tonight. A reminder, a community meeting is being held beginning at 6 p.m. this evening at Railroad Flat Elementary School.