Yosemite Celebrates 125th Anniversary Tomorrow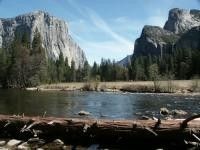 Yosemite National Park

View Photos
October 1st will mark Yosemite National Park's 125th Anniversary and they are throwing a celebration that the public is invited too.
Yosemite National Park Spokesperson Scott Gediman was Wednesday's KVML "Newsmaker of the Day".
According to Gediman, ceremonial highlights will include John Muir live on stage, traditional Yosemite songs, Mounted Park Ranger Patrol, a community time capsule and hundreds of school children from throughout the foothills and the central valley.
The public is invited to the celebration which runs tomorrow from 11:00 AM – 12:00 PM at the Yosemite Valley Visitor Center.
Honorary 125th Anniversary Chairman, Ranger Gabriel Lavan-Ying, will join park Superintendent Don Neubacher, in leading the celebration.
Lavan-Ying, better known as "Ranger Gabriel," became an honorary Yosemite National Park Ranger in June, 2014. Ranger Gabriel visited the park through the Make-A-Wish Foundation, which granted Gabriel's wish to be a Yosemite National Park Ranger. Lavan-Ying suffers from a life-threatening illness, but keeps an amazingly strong attitude, both physically and mentally. During Lavan-Ying's visit to the park he performed many duties that are done on a daily basis by Yosemite Park Rangers, including putting out a fire, conducting a search and rescue operation, going on a nature walk, etc… Ranger Gabriel is actively raising money for other kids to realize their wish, just like he did. So far, "Team Ranger Gabriel" has raised over $14,000, which will pay for two kids to make their wish a reality. Ranger Gabriel and his family just participated in the Orlando, Florida "Make A Wish" walk, in which they raised money.
The ceremony will also include Yosemite's famous Mounted Patrol, a sing-along with renowned musician Tom Bopp, a special guest appearance by John Muir (portrayed by Lee Stetson). Fourth grade students from throughout the foothills and the central valley will receive free Yosemite National Park passes through the "Every Kid in a Park" program.
Proclamations and resolutions honoring the 125th Anniversary presented by elected officials from the federal, state, and local level.
The "Newsmaker of the Day" is heard every weekday morning on AM 1450 KVML at 6:45, 7:45 and 8:45 AM.