Late Summerville Athlete Is Subject Of Book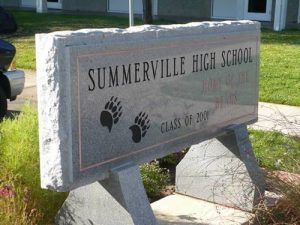 Summerville High School

View Photos
Gabe Rice was a local outstanding athlete who was a part of the Summerville Bears Football team during the 1990's.
Guy Dossi, first cousin of Rice, has authored his first book and was Wednesday's KVML "Newsmaker of the Day".
Rice was someone who Dossi looked up to as a young child. Rice wore Summerville Bears jersey #13 and made a lasting impact, not only in Dossi, but on his teammates and the local community.
As Dossi explains, "Rice did not have an ideal childhood and there were several reasons that he could have just given up. But Rice didn't. He excelled and was determined to succeed."
After leaving Summerville, Rice went on to play football for Reedly College and Chico State.
In the summer of 1997, Rice was excited to comeback to Summerville High School, this time as both a teacher and an athletic coach, when he was suddenly killed just two weeks before school began.
"It was a very sad time and there was a lot of speculation and stories," Dossi said. "I never point fingers of blame at any one. That is not what the book is about. It was a tragic circumstance."
In researching his cousin, Dossi spent numerous weeks talking with those who knew Rice best. He even traveled to Chico State and uncovered all sorts of fascinating facts and stories, that as a young boy, Dossi never knew.
"I became more fascinated with his life, the more I researched. I knew this would make for a great story and biography that opens people's eyes and yet still honors the life of my cousin," said Dossi.
The book is titled "More Than A Num13er: The Gabe Rice Story."
It is available at Bob's Greenly Pharmacy, Tuolumne Market, Mountain Books and on e-bay. Five percent of the proceeds on e-bay sales will go to the Make-A-Wish Foundation.
The "Newsmaker of the Day" is heard every weekday morning at 6:45, 7:45 and 8:45am on AM 1450 KVML.