Butte Fire Gains Containment: Weekend Fire Wrap-Up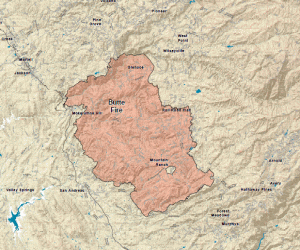 Butte Fire Map

View Photos
The Butte Fire in Calaveras in Amador counties is up to 95% containment and it is 70,868 acres.
Firefighters made progress over the weekend putting out hotspots. There are 1,344 firefighters still assigned. The next community town hall meeting is this evening at six at the Mountain Ranch Community Club. It is open to the public. Meanwhile, the Valley Fire burning in Napa, Lake and Sonoma counties is now 97% contained and 76,067 acres.
There were a couple of other minor fires over the weekend. On Saturday evening a faulty septic system ignited a one acre grass fire in Copperopolis. It was in the 7800 block of Riata Way. No homes or structures were damaged. Also in Calaveras County, fire investigators determined that a 1/4 acre fire that ignited Friday morning in the 7500 block of Leslie Court in Burson was caused by a riding lawnmower. No structures were damaged.
Continue to use caution this time of year when using equipment.