No Movement on Butte Fire Figures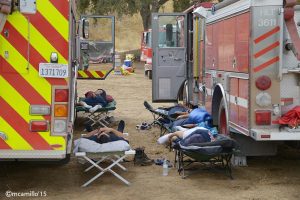 Firefighters receive needed rest at Butte Fire Base Camp in Angels Camp

View Photos
San Andreas, CA — The containment and acreage have not budged on the Butte Fire since Friday morning, which is no reason for concern, according to Cal Fire.
This morning's fire numbers, for the second day in a row, remained at 93 percent containment and 70,868 acres in size. Cal Fire spokesperson Josh Rubinstein cautions, "We've been seeing incremental increases, one percent to two percent, over a 24 hour period…So, not to see an increase is by no means a reason for any concern. We have firefighters working 24/7 on the fire."
No aircraft took to the skies on Friday and none are flying overhead today. Currently on the ground, there are 1,522 fire personnel, 75 engines, 7 water tenders, 43 hand crews, and 10 dozers. Rubinstein reminds residents, "The temperatures are rising, the humidity is decreasing, and that is a recipe for disaster…If they [residents] see fire or smoke they have to call 911 immediately. If it appears to be a large fire they have to be prepared."
There are still two evacuation centers open, one at the Jenny Lind Veterans Hall and the other at Glory Bound Fellowship in Burson, due to the more than 860 structures destroyed or damaged. Additionally, both Calaveras and Amador counties are continuing to operate large animal pet shelters at their fairgrounds.
The estimated containment date for the Butte Fire remains October 1. Click here for information on a Cal Fire Butte Fire Community Meeting scheduled for Monday.
The Butte Fire Summary Timeline provides links to all our Butte Fire news stories here.