Last Weekend Of September Events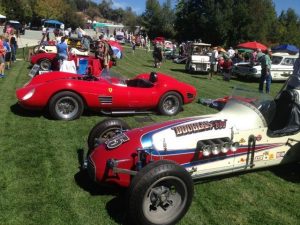 Concours d'Elegance

View Photos
With the first weekend of fall the days are noticeably shorter and the nights are colder. Several big annual events are celebrated in the Mother Lode at this time each year.
The 19th annual Concours d'Elegance will be held at Ironstone Vineyards in Murphys this Saturday. The cars this year include Tucker, Alfa Romeo, Studebaker, Packard, Duesenberg, Pierce-Arrow, Bentley, Rolls-Royce and Jaguar. Special classes spotlight early Fords, sports cars, exotics, race cars, coachbuilt luxury marques, plus unrestored and original automobiles. Hear Mark Truppner's seven minute "Newsmaker of the Day" interview with Ironstone Concours d'Elegance Foundation President Gail Kautz in the multimedia section here.
The Mark Twain Medical Center fall Health Fair is also this Saturday. Our earlier news story "Fall Health Fair This Saturday." details what services are available there.
Calaveras Cancer Support Group Fundraiser and Fashion Show is this Saturday as well at The Pickle Patch in San Andreas. For details and reservation information view the event listing here.
Celebrate National Public Lands Day (NPLD) at New Melones Lake on Saturday. Day use fees will be waived at New Melones Lake for all visitors. As part of the celebration, the public is invited to participate in kid-friendly NPLD projects: building a birdhouse, planting a native tree or taking a boat ride to pick up trash on the lake's shoreline. Details are here. The event kicks off President Obama's Every Kid in a Park initiative. From Sept. 1, 2015, through Aug. 31, 2016, all fourth grade students nationwide may receive a special pass that allows them and their families free access to more than 2,000 federally managed lands and waters.
Expect hero costumes at Foothill Pregnany Center's Hero's Walk for Life on Saturday. The event listing says "Be a hero and support our moms, dads, and babies in our community." More details about the fundraiser are here.
Tuolumne County Drug Take-Back Day begins at 10:00 am in the Junction Shopping Center. Details are here.
Columbia's celebrated misspelled event the "Fiddle & Bango Contest & Chili Cook-Off" begins Saturday at 10:30am. Details about the fun event are in the >event listing.
Skyline Place Senior Living is hosting a "Carnival of Causes" Saturday between 4pm and 8pm. View the event listing here.