Butte Fire Meeting Goers Get Info; Share Thanks, Concerns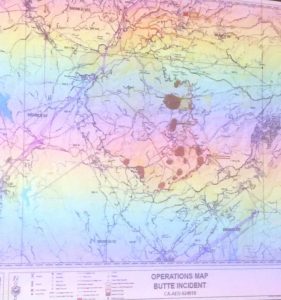 Current Butte Fire Map, Sept. 22, 2015

View Photos
San Andreas, CA — Butte Fire survivors filling nearly every seat in a local high school community room last night listened and were heard by incident response team officials.
At Bret Harte High School, along with providing overviews of incident details, challenges and plans moving forward, nearly two dozen multi-agency leaders and point personnel attending the special public meeting took questions and comments, many of them from evacuees now dealing with major losses in what is now ranked as the seventh most destructive fire in state history.
While most who shared their stories were complimentary of Cal Fire and security personnel efforts, others aired pained criticisms and near accusations ranging from frustrations with insufficient evacuation communications to purported firefighting missteps, such as damaging structures while lighting backfires. One resident claimed he witnessed firefighters taking cellphone selfie photos while, in the background, flames destroyed the home of a friend. Cal Fire officials again noted the unprecedented rapid and often counter moving fire activity at the beginning of the incident before sufficient resources and a fortunate break in the high heat-low humidity conditions kicked in. They also were quick to condemn the alleged photo opp incident, asking for further details for appropriate follow up.
Asked to address the recovery process, Cal Fire Tuolumne-Calaveras Unit Chief Josh White points out that PG&E is still actively in the field and has, so far, over 15,000 fire damaged trees to take down and reported it also had over 900 poles and transmission lines to replace. Looking forward to possible winter rains, he says, there will be an obvious potential for mudslides and Cal Fire has many weeks ahead of work ahead within the fire footprint. While full containment of the deadly blaze, which claimed two lives is still estimated by October 1, he says he expects mop-up of hot spots to be ongoing for the rest of the season, at least until the much anticipated fall rains begin to arrive. He encouraged residents in the fire-damaged areas, as needed, to reach out to firefighters working in their environs for input — or call Cal Fire with fire and hazard tree safety issues. (Click here for video.)
Public Meeting Thursday Will Address Debris Clean-up
At the end of the event, Calaveras County District 4 Supervisor Debbie Ponte made the announcement that this Thursday night, beginning at 6 p.m., another public meeting is scheduled to take place at the town hall in San Andreas. It will specifically address the newly established free fire-damage debris removal program in partnership with CalRecycle that will enable the safe transfer of hazardous ashes on home foundations that may contain asbestos, lead and other toxic materials, as well as other potentially unsafe materials. This debris may not be dumped at local the landfill or transfer stations, she emphasizes. For residents who prefer to do their own clean up, Ponte says the Department of Environmental Health will have a certification process and equipment (click here for video explaining more details) available for residents but debris transfer must still be done through the county-mandated process.