Calaveras Supes To Address Butte Fire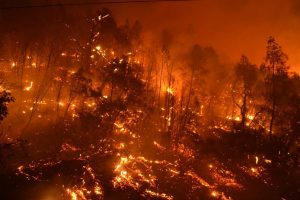 Butte Fire

View Photos
San Andreas, CA — In their first regular meeting since the Butte Fire, the Calaveras supervisors have added several recovery-related actions to an already hefty agenda.
Among the consent items the Calaveras County Board of Supervisors on Tuesday expect to pass are its first two-week extension of the local state of emergency, due to the Butte Fire, imposed by the board during a special session called on Sept. 10, the day after the blaze first broke out. Doing so allows it to request that the state waive regulations that would hinder response and recovery efforts as well as tap state assistance available under the California Disaster Act and from federal resources and disaster relief programs.
Similarly, the board plans to ratify the local health state of emergency in the county already proclaimed Sept. 17 by Environmental Health Officer Jason Boetzer and Health Officer Dr. Dean Kelaita due to burning, damage and other hazards created over the disaster's course. The action enables the county to tap resources and mutual aid for those impacted and recover certain costs. The declaration mandates the formal disclosure of any circumstances involving potentially hazardous materials, debris or contamination; data sharing with responding agencies and the gathering of necessary technical details, samples and analyses for remedial action.
Additionally, among its regular agenda items, the supervisors will discuss adopting a resolution approving a funding application for Butte Fire recovery relief from the California Disaster Assistance Act Program that authorizes Supervisors Cliff Edson and Chris Wright, and County Administrative Officer Shirley Ryan to act as Authorized Agents on behalf of the County as well as to authorize Ryan to enter into a memorandum of understanding with CalRecycle for a state-managed Butte Fire debris removal program.
Among other board business, the supervisors will consider a planning department recommendation to deny an appeal relating to the road map for the Olive Orchard Estates subdivision in Rancho Calaveras. Filed by Joyce Techel, Lora Most, Carol Parks, Don Most, Don Kuhn and Clyde Clapp, the appeal takes exception to the planning board's August 13 action that, following an independent traffic study, approved a modification of the developer's existing permit waiving certain offsite improvements to Olive Orchard Road; among them the building of left turn lanes on Highway 26 at the intersection of the road and Garner Place.
The meeting starts at 9 a.m. in the board chambers (891 Mountain Ranch Road).