Wildlife Blamed For Sonora Crash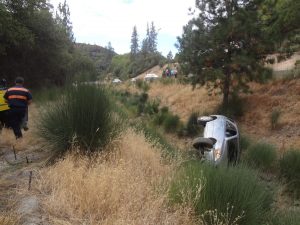 Crash on Stockton Road in Sonora

View Photos
Sonora, CA — A Jamestown woman suffers minor injuries in a wreck after a deer darted into her path.
Sonora Police report that Johnna Lambirth, 21 of Jamestown, was heading northbound on Stockton Road near Highway 108 Wednesday just before 11 a.m. when a deer ran in front of her vehicle.  To avoid hitting the animal, she swerved to the right and lost control of the car.  The vehicle jumped a curb and went down a steep embankment, coming to rest in a drainage ditch.
Luckily, Lambirth only sustained minor injuries.  Officers reports she declined medical attention at the scene.  Neither drugs nor alcohol was a factor in this incident. Traffic was backed up for about a half hour as tow crews pulled the car out of the ditch and cleared debris from the roadway.
Additionally, the deer was not injured in the accident. Witnesses to the crash reported seeing it  running into the woods with no apparent injuries.