Butte Fire Recovery Assistance; Center To Open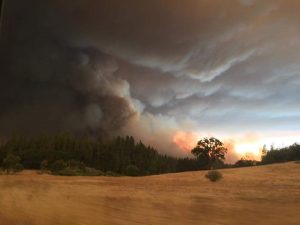 Butte Fire Visible From Glencoe

View Photos
San Andreas, CA — As the Butte Fire still burns at half containment a "one-stop" resource center for evacuees needing recovery assistance opens Friday.
County administrators have established the Calaveras Local Assistance Center (CLAC), which will be staffed through Monday, Sept. 21 with personnel from local and state agencies. Its express purpose is to assist residents impacted by the blaze that to date has destroyed 408 structures while earning the dubious distinction of a Number 14 rating on the state's list of Top 20 Most Damaging California Wildfires over the past 80 years.
The center will be open tomorrow from noon until 7 p.m., and Saturday through Monday from 7 a.m. until 7 p.m. at the Calaveras County Government Center, located at 891 Mountain Ranch Road in San Andreas. For more details, call County Public Health Services at 209 743-6276.
Of Related Note…
The State Board of Equalization (BOE), which announced Thursday that it will have personnel onsite at the center, says that taxpayers impacted by the Butte Fire in Calaveras and Amador counties, as well as the Valley Fire in Lake and Napa counties are entitled to several forms of tax relief assistance. Among these are:
–Help replacing records and other government documents that may have been destroyed or lost
–Extensions on filing tax returns
–Relief from tax penalties and/or interest on some taxes and fees; including Fire Prevention Fee relief for subject residences that are no longer habitable
California Department of Motor Vehicles (DMV) will also be set up at the center during the operation hours already listed above. DMV personnel will be able to help customers:
–Obtain duplicate driver licenses and identification cards
–Duplicate vehicle registrations; titles; disabled placards
–Acquire substitute license plates and stickers
–Complete vehicle disposal paperwork
–Get driver record printouts
–Process change of address information