Butte Fire: Locals Say 'Thank You'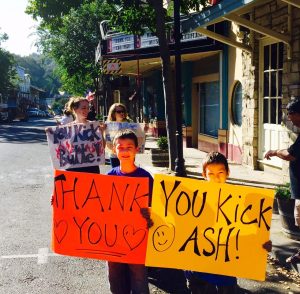 Angels Camp, Butte Fire Crowd Thanks Firefighters and Other Emergency Responders
Angels Camp — How do you begin to thank the thousands of firefighters and other responders helping "kick Butte" on a history-making monster fire?
Cal Fire officials call the Butte Fire historic because of its explosive and insidious spread through tinder-dry conditions burnished by four years of drought that allowed it to burn thousands of acres in Calaveras County that had not seen fire in a century. Ahead of this morning's news that the fire is almost 50 percent contained and successfully being held with just incremental growth at about 70,760 acres — and that Cal Fire expects full containment by sometime late next week — Calaveras County locals wanting to express their gratitude spread word through social media yesterday of plans for a loosely organized turn-out to say "thanks!"
This morning, under dozens of American flags flying in front of businesses, locals showed up with handmade "thank you" signs to shout and wave at the  procession of fire engines and other emergency vehicles that have been bee-lining through Main Street Angels Camp on their daily procession between fire assignments and the county fairgrounds-located base camp  just a few minutes past the downtown district.
Flashing lights, sounding sirens and waving back to the crowd, fire and emergency personnel rode past in vehicles showing local company insignia from all over California, Nevada, as far away as Oregon.
For a video of this morning's activities, please click the link in the left image box. Additional images can also be viewed, slideshow style.