Three Deaths Connected To Valley Fire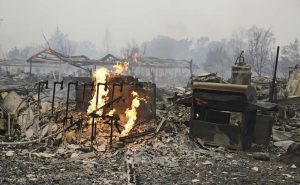 Destruction From Valley Fire In Middletown

View Photos
While there have been two confirmed fatalities related to the Butte Fire, three people are now confirmed dead due to the Valley Fire.
That is according to the Lake County Sheriff's Office. The Valley Fire, burning in Lake, Napa and Sonoma counties is up to 73,700 acres and it is 35% contained. CAL Fire reports that at least 585 homes have now been destroyed. The cause of the fire, which ignited on September 12th, is still under investigation. There are 3,580 firefighters on scene this morning, 441 engines, two air tankers, 18 helicopters, 64 dozers and 70 water tenders.
Below is a list of the various notable fires that have been burning over the past couple of weeks in California.
Information provided by CAL Fire:
Valley Fire, Lake County
Across southern Lake County
* 73,700 acres – 35% contained
* Evacuations remain in effect
* 7,650 structures threatened
* An estimated 585 residences and hundreds of other structures destroyed by the fire
Butte Fire, Amador & Calaveras Counties
* 70,760 acres – 49% contained
* 6,400 structures threatened
Lumpkin Fire, Butte County
Robinson Mill area
*1042 acres – 100% contained
* All evacuations lifted
Oak Fire, Tuolumne County
Northeast of Sonora
* 108 acres – 100% contained
**Federal Incidents**
Rough Fire, Fresno County
US Forest Service – Sierra & Sequoia National Forests
2 miles north of the Kings Wild and Scenic River
*141,036 acres – 67% contained
* CAL FIRE continues to assist
South Complex, Trinity County
US Forest Service – Shasta-Trinity National Forest
Near Hyampom, south of Hwy 299
*29,416 acres – 89% contained
Fork Complex, Trinity County
US Forest Service – Shasta-Trinity National Forest
South of Hyampom
*36,499 acres – 97% contained
River Complex, Trinity County
US Forest Service – Shasta-Trinity National Forest
New River Drainage, near Denny
*77,074 acres – 48% contained
Nickowitz Fire, Del Norte County
U.S. Forest Service – Six Rivers National Forest
*7,509 acres – 80% contained
Gasquet Complex, Del Norte County
U.S. Forest Service – Six Rivers National Forest
On the Gasquet Ranger District
*30,341 acres – 47% containment