Two Arrested In Sonora For Bold Modesto Theft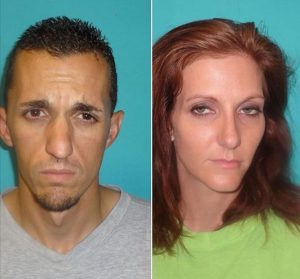 Sonora Police Department Photo

View Photos
Sonora, CA — The Sonora Police made arrests following a bold daylight car theft in Modesto  involving a 2013 Nissan Altima.
At 1:41 pm Sonora Police Department received information from a Modesto car dealership that an Nissan had been stolen; driven through a chain link fence at the dealership while still displaying the dealership's paper license plates.
At about 2:45 pm, a Sonora Police Department community service officer who was patrolling The Crossroads shopping center located the stolen vehicle, which was parked in front of Big 5 Sporting Goods, and requested officers to respond.
Officers found the two subjects inside of Big 5 Sporting Goods, reporting that the two exited but did not stop at the stolen vehicle when they noticed officers there. Once confronted,  Andrew Ball, 29, and Breeann Perry, 34, both of Modesto, first gave false identifying information. Both subjects were taken into custody without incident.
Ball was reported by Sonora Police as "in possession of the keys to the stolen vehicle and a dangerous weapon."  Perry was reported as in possession of drug paraphernalia.
Ball and Perry were both booked for felony auto theft and felony possession of stolen property; Ball was also booked for possession of a dangerous weapon; Perry, for possession of drug paraphernalia.