Arrests Made Connecting To Stolen Weapons Cache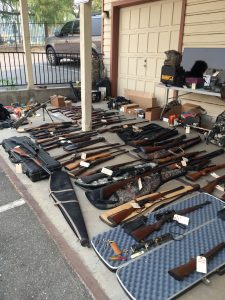 Guns

View Photos
Sonora, CA — Local officials say arrests have been made in connection with a rash of burglaries that included numerous weapons and ammo in the takes.
Over the past month the Tuolumne County Sheriff's Office states it has received reports of multiple incidents in the Groveland and Chinese Camp areas. Among the reported stolen items were more than 80 firearms, thousands of rounds of ammunition and other weapons as well as tools and electronics. Investigators say that the same methods were used in each of the incidents and that each time, the suspects were able to force entry into extremely secure locations and containers.
The Sheriff's Office reports that on Monday, Sept. 7, it received information that multiple suspects in possession of stolen property were attempting to sell some of those items back to one of the victims and set up an operation to nab those involved. Subsequently, 31-year-old Michael Kenneth Owsley was arrested, and charged with conspiracy to commit fraud; possession of a controlled substance and violation of probation.
A day later, after receiving a similar tip, investigators initiated a second sting during which six firearms, multiple knives and other stolen items were recovered. Two arrests were made as a result of that operation: 34-year-old Clinton Robert Bauman, charged with conspiracy to commit fraud, illegal possessions of firearms and ammunition, possession of stolen property, and for an outstanding felony warrant; and 39-year-old Virak Rangsan, on conspiracy to commit fraud and illegal possession of firearms.
Wednesday, Sept. 10, county investigators say that Rangsan was rearrested on additional burglary charges. Further investigation led detectives to a residence located in Riverbank. Following a search under an obtained warrant, investigators recovered a weapons cache consisting of 63 stolen firearms, thousands of rounds of ammunition, holsters, leather and nylon gear, multiple knives, bows and crossbows. Included in the stolen property were hand and power tools, TVs and other electronic equipment.