Governor Brown Briefed On Butte And Lake Fires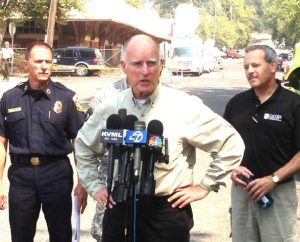 Governor Jerry Brown In Tuolumne During 2013 Rim Fire

View Photos
Earlier this week, Governor Brown joined Cal OES Director Mark Ghilarducci and Cal FIRE Director Ken Pimlott at the State Operations Center in Mather for a briefing on the wildland fires raging across the state.
Brown was Wednesday's KVML "Newsmaker of the Day".
The State Operations Center is activated at the highest level as eight wildfires burn across the state causing massive damage, with the largest and most destructive being the Valley Fire (Lake, Napa and Sonoma counties), Butte Fire (Amador and Calaveras counties) and the Rough Fire (Fresno county). The fires have destroyed and damaged hundreds of homes and structures, and thousands have been displaced from their homes.
"Our thoughts and prayers and hearts go out to those that have lost their homes and have been displaced by these fire situations," said Cal OES Director Ghilarducci. "These communities still are in an active fire fight and we are working very closely with Cal FIRE and the local counties where these fires are taking place to try to get an adequate assessment of the total amount of loss."
Governor Brown declared a state of emergency in Lake and Napa counties on September 13th due to the Valley Fire, and declared a state of emergency in Amador and Calaveras counties on September 11th for the Butte Fire.
The "Newsmaker of the Day" is heard every weekday morning on AM 1450 KVML at 6:45, 7:45 and 8:45 AM.