Suspicious Fire Damages Wright's Tire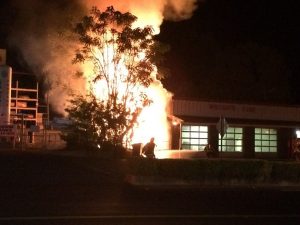 Fire At Wright's Tire

View Photos
Sonora, CA — A fire in downtown Sonora caused an estimated $15,000 damage.
The Sonora Fire Department was dispatched late last night to the blaze at Wright's Tire Services on Mono Way. Captain Matt Slusher of the Sonora Fire Department reports that there was extensive damage to a side structure on the Wright's Tire property that houses old tires. The main building had minor damage to a part of the roof. He says the firefighters were also successfully able to prevent the fire from spreading to any nearby vegetation and the next-door Calaveras Lumber facility. Sgt. Slusher says investigators were able to locate the origin point and determined it was "intentionally started." The Sonora Police Department is actively involved in the ongoing investigation.
Other agencies that assisted include Tuolumne County Fire, CAL Fire, Columbia Fire, and Columbia College Fire. The fire was fully controlled at 1:48am.
Community news partner Darin McKinney submitted the photos. Pictures can be e-mailed to news@clarkebroadcasting.com.