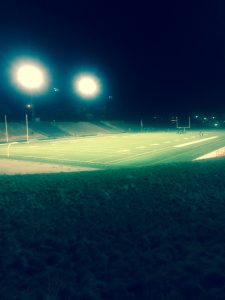 Sonora Wildcats take on the Flames at Lodi

View Photos
Sonora gets a "W" while Calaveras and Bret Harte fall short in the second week of the high school football season.
The Wildcats pick up their first win of the season last night over the Lodi Flames 23-13 at the Grape Bowl in Lodi. The first half the teams battled it out between both of the 20-yard markers with scarce scoring. The Flames were leading at half time 13-8.
The second half was a different story. The Wildcats made the needed adjustments and started to spread the field. Sonora had a strong offensive effort putting up nearly 356 total rushing yards. Bradley Canepa racked up over 100 of those yards. The Wildcat's defense stepped it up in the second half making a couple of huge stops. It was a great night for Kane Rodgers picking off four interceptions in the night.  Next week Sonora returns to its home turf, taking on the Hilmar Yellowjackets at Dunleavy Field.
Meanwhile, Bret Harte High School lost its home opener against Orestimba 45-6.  Calaveras High was on the road and lost a close one to Escalon 14-6.
On Thursday night, Summerville High School chalked up a win defeating the Mariposa Grizzlies 70-44. (Click here for highlights on that game.)
*Mark Ferreira contributed to this report