Holiday Weekend And Festival Traffic Safety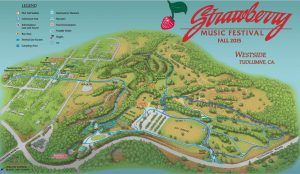 Strawberry Music Festival, Fall 2015 Westside Tuolumne Map

View Photos
Sonora, CA – A word to the wise: as traffic picks up before the weekend, due to holiday revelers and at least one major-draw event, so will law enforcement.
Displaced from its Camp Mather location due to the Rim Fire two years ago, the Strawberry Music Festival opens to the public Thursday morning at 8 on the Tuolumne Band of Me-Wuk Indians-owned Westside property, located on the edge of Tuolumne City.
Traffic impacts related to the festival and nearby Summerville High School expect to be especially heavy between 8:30 and 9:30 a.m. on Thursday and Friday. Organizers are advising campers and other festival attendees to arrive before or after those periods and drive with caution through the school zone area. The California Highway Patrol (CHP) Jamestown Unit, according to spokesperson Officer Nick Norton, has officers who will be assigned to the area most of the day Thursday when the initial main waves of festival-going campers arrive.
Norton additionally warns motorists that the Labor Day holiday weekend Maximum Enforcement Period (MEP) begins Friday night at 6 p.m. and runs through midnight Labor Day Monday, Sept. 7.
Festival Vs. Summerville Classes, Football
According to Summerville Union School Superintendent Robert Griffith, the high school will begin its Thursday classes at 9 a.m., one hour later than normal. Additionally, the Summerville junior varsity and varsity football teams both have home games Thursday evening that will begin at 5:30 and 7:30 p.m. As he notes there is sufficient on-campus parking, festival traffic should not impact game goers.
For the safety of not just the students but everyone passing through the area, Griffith adds, "With increased traffic…take your time and honor the speed limit."
Along Tuolumne Road, with posted signage directing festival goers to the event site, additional signs and staff at the Westside property main gate will provide festival attendees further instruction, according to operations manager Jodi Barnett. She shares that, because Westside offers extensive parking inside and there will be plenty of staff specifically assigned to handle traffic, she does not anticipate any lines of vehicles stacked up along Tuolumne Road, waiting to get in.
Throughout the four-day event, the festival map (see upper left image) indicates that foot traffic will be directed between Westside and downtown Tuolumne across the end of Cherry Valley Blvd. Barnett also says that there will be shuttles within the festival site itself, actively transporting festival goers to some of the outlying Tuolumne venues.
The Tuolumne County Sheriff's Department reports it will have two deputies assigned to the area Thursday through Sunday evenings, and additionally warns folks to be cautious and aware while passing through the environs, due to much increased and unaccustomed motorist and foot traffic.