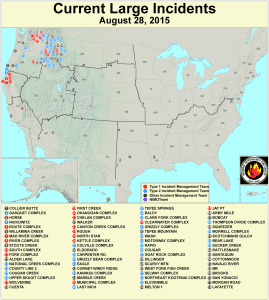 Current Nationwide Large Fire Incidents

View Photos
Yosemite, CA — Yosemite National Park fire crews are continuing to monitor three notable fires within the park's boundary.
The largest is the Dark Fire, which has burned 40 acres near Yosemite Creek Campground Road. The fire, at 8,200 ft. elevation, ignited early last month and continues to creep and smolder through red fir duff, and needles, within the interior of the fire. Smoke is still periodically visible from Tioga Pass and the Yosemite Creek Campground. Yosemite officials report that a containment line has been burned around most of the perimeter.
The Cathedral Fire, near the John Muir Trail and Cathedral Lakes, has now burned 29 acres, and still has the potential to grow until it hits natural barriers. It is at 9,400 ft. elevation, and no buildings or structures are in the area.
The Middle Fire, west of White Wolf and south of the Middle Tuolumne River, is 24 acres. Smoke is still visible at times from Tioga Road. At 8,043 ft. elevation, it continues to creep through down logs, pine needles and other vegetation.
In addition, Yosemite officials report that numerous large fires are burning throughout the western United States, and the variables winds have been pushing drift smoke into the park. This pattern may continue over the next few days, so park officials are encouraging visitors to consider air quality when planning outdoor activities. The map in the upper left hand corner shows the large active fire's burning across the western states.