Mariposa Arrest In Connection To Drug Ring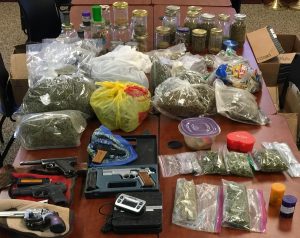 Evidence Seized In Mariposa County

View Photos
Coulterville, CA — Mariposa County officials confiscated marijuana, and several weapons, during an investigation in the Coulterville area.
Detectives learned that a group of individuals were allegedly growing marijuana at four homes, and the drugs were being transported to a medical marijuana dispensary outside the county. This type of action is in violation of Mariposa County Ordinance, and state and federal law. The Sheriff's Office reports that three of the homes searched had evidence of marijuana grows, but the drugs had been removed prior to the warrants being served. At a fourth residence, in the 10000 block of Jasmin Way, deputies found 300 plants growing inside, as well as 10 lbs. of processed marijuana, and $4,000 cash.
27-year-old Cody Stotts of Coulterville was arrested and taken into custody. He faces charges related to the cultivation of marijuana and possession of the drug with the intent to sell.
The Sheriff's Office reports that additional evidence items were also collected during the search of the four homes, which consisted of five handguns, multiple indoor grow lights, multiple smoking devices, scales and tools used for processing marijuana.
An investigation is ongoing.