High School Football Season Is Underway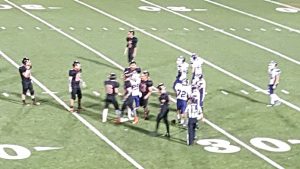 Summerville defeats Denair

View Photos
Sonora, CA — The high school football season kicked off Friday night.
Summerville played before a packed Thorsted Field, and successfully defeated Denair 34-13. Senior quarterback Travis Rodgers was effective moving the offense down the field, and Jake Fulkerson helped lead the ground attack.
Meanwhile, Sonora traveled to Oakdale, and fell 40-15. It was the 99th meeting of the rivalry. Sonora had a strong contingency of fans make the trip down Highway 108. Oakdale's offensive line, especially the right side, dominated the line of scrimmage most of the night. The Wildcats were shut out in the first half of football with the offense not seeming to fire on all cylinders. The second half was better for the Wildcats putting up 15 points, but the Oakdale Mustangs proved that there offense was too much for the Cats on this night.
In San Andreas, Calaveras fell to McNair, 74-26. Bret Harte opens up its season next week.
A special thanks to community news partner Kris Persson for sending in the photo from Summerville High. Pictures can be e-mailed to news@clarkebroadcasting.com.
*Mark Ferreira and Brandon Steele contributed to this report.