Three Mi Wuk Village Homes Destroyed By Fire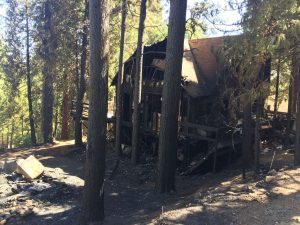 3 Home Fire Mi Wuk

View Photos
Mi Wuk Village, CA — A late night fire destroyed three homes in Mi Wuk Village.
The fire started at around 11:45pm at a residence in the 20000 block of Hekeke Lane and then spread to two other neighboring homes, and some vegetation. Two of the homes were occupied, and all the residents were able to escape without any injuries. The fire was controlled at 3am. The Mi Wuk Sugar Pine Fire Protection Dsitrict responded with two fire engines, a chief officer, and a fire utility vehicle. The agency was also assisted with resources from Cal Fire, Tuolumne County Fire, Tuolumne Fire District and Twain Harte Fire.
The American Red Cross is meeting with the residents impacted and is working on filling their needs. Fire units will remain on scene for most of the morning to ensure that the fire is fully extinguished. Mi Wuk Sugar Pine Fire Protection District Chief Larry Crabtree estimates that the total damage is over $600,000.
What ignited the fire is still under investigation.
A special thanks to our community news partner Michael Murtagh for sending in the photo.