Celebration Planned For Measure E Project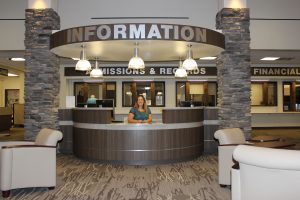 Manzanita Building Rotunda

View Photos
Columbia, CA — Next month Columbia College will celebrate the completion of a $9.2 million renovation at the Manzanita Building.
The college will hold a "Grand Re-opening" for the 22,791 sq. ft. second floor. The area houses student support and business services, administration, and the Columbia College Foundation. It also houses the Rotunda, which has a display gallery and serves as a central student gathering place. The project also included the replacing of 90% of the mechanical systems to meet current energy efficiency standards.
The overall project was designed by the firm Lionakis of Sacramento, and the project was managed by Kitchell, CEM of Sacramento.
The celebration, scheduled for Friday, September 18th, will run from 9am-noon. The public is invited to attend.