A Birthday Present To Yosemite Visitors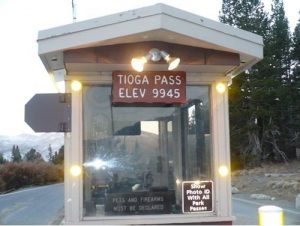 Tioga Pass Entrance

View Photos
Yosemite, CA – Visitors get a free pass to see the majestic views of Yosemite National Park on Tuesday, thanks to Founders' Day.
Visitors can join the celebration of the National Park Service's 99th Birthday on August 25, and even get a gift, as entrance fees are being waived that day.
There will also be an interactive "village" in front of the Yosemite Valley Visitor Center with a camping lounge, where visitors can learn about the Park Services Centennial through interactive maps of national parks, camping games, historical camping artifacts, and an Instagram station, according to park officials. The village is free to the public and open from 9 a.m. to 4 p.m.  Park officials note that the special guest that day from 11 a.m. to 1 p.m. will be Conrad Anker, a world-renowned mountaineer, explorer, and Yosemite Centennial Ambassador.
Only the gate fee is waived for Founders' Day. All other fees for camping, lodging and other activities will remain in effect.