Overnight Fire In East Sonora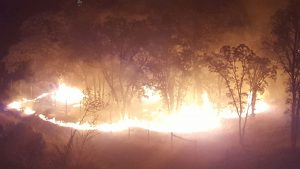 Elsey Court Fire
Sonora, CA — An overnight vegetation fire was extinguished in East Sonora.
CAL Fire reports that an acre burned in the area of Elsey Court near Mono Way. The fire was east of the Shell station and Burger King. CAL Fire reports that it was quickly extinguished, and no buildings were damaged. The cause is still under investigation.
A special thanks to community news partner Kris Persson for emailing the photos. Pictures can be sent to news@clarkebroadcasting.com.