Update: Evacuations Ordered In Oakdale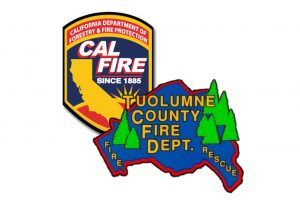 Cal Fire - Tuolumne County Fire Department Logo

View Photos
Update 4:10 p.m.: Calfire spokesperson Lisa Williams reports that all Columbia aircraft have been called off the scene as crews make progress battling the flames. Williams confirms six Tuolumne County Fire Department engines remain on the scene. Residents in 10-15 homes on Scarlett Oak Drive remain evacuated.
Update 3 :05 p.m.: Stanislaus Consolidated Fire Protection District officals report the fire has grown from six to 25 acres and that the flames jumped the Stanislaus River forcing law enforcement to order the evacuation of 10 to 15 homes on Scarlett Oak Drive.  One home has been damaged.  However, fire officials say crews are making progress as one of the tankers from Columbia has been called off the fire, which broke out just after 1 p.m. in some grass. (view map at bottom of page)
Update 2:35 p.m.: Cal Fire spokesperson Lisa Williams says the vegetation fire east of Oakdale in Stanislaus County is six to eight acres in size. There is no word on rate of spread or whether any structures are threatened. All Columbia aircraft and six engines from Tuolumne County are assisting in battling the blaze.
Original Post 14:11  p.m.: Oakdale, CA — Columbia Air-Attack along with Cal fire and Tuolumne County fire crews are heading to a vegetation fire east of Oakdale.
Cal Fire reports the flames broke out in some grass along Rodden Road and Mc Leod Avenue. There is no word on size, rate of spread or whether any structures are threatened. Cal Fire spokesperson Lisa Williams says that six engines from Tuolumne County are responding to the scene. We will bring you more information as soon as it comes into the newsroom