Recent Sonora Graduate Suffers Fatal Fall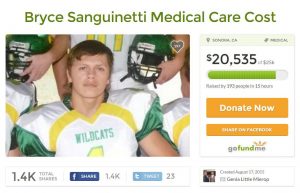 Bryce Sanguinetti gofundme Medical Cost page

View Photos
Sonora, CA — A local son and noted high school athlete who perished suddenly over the weekend was to have started college classes on the Central Coast this week.
Bryce Sanguinetti, a recent graduate of Sonora High School, suffered a fatal brain injury last Thursday after falling from a San Luis Obispo apartment complex balcony, less than three days before he was to have begun his freshman year at Cuesta Community College, located nearby. He died from the injuries late Saturday morning. Sanguinetti, a multisport athlete and member of the Sonora High wrestling, football and track teams, was expected to compete on the Cuesta College track and field team. His parents are Matt Sanguinetti and Michelle Hesseltine-Sanguinetti, of Sonora.
According to the San Luis Obispo Police Department, the incident, though not considered a criminal matter, remains under investigation by police, fire and medical personnel.
As of 1 p.m. Tuesday, 193 people over a 15-hour period had donated nearly $21,000 to offset Sanguinetti's medical bills through a gofundme medical cost donation page, which had been set up Monday in his memory. To access the page, click here.