Supervisors Making Final Budget Decisions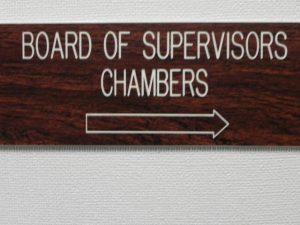 Tuolumne County Board of Supervisors Sign

View Photos
Sonora, CA — The Tuolumne County Board of Supervisors gave staff direction on the budget this morning, and heard some final pleas from local organizations.
The General Fund Budget for the 2015/16 fiscal year will be around $61.4 million, up 2.9% from last year's $59.7 million figure. It includes the addition of 31 permanent employees.
This morning, three non-profit agencies gave final pleas to receive a chunk of one-time funding this year. The Board decided that the Mother Lode Fair will receive its full request of $14,000, notably for a fencing improvement project. The Tuolumne County Museum will receive its fully requested allotment of $22,000 to help preserve and keep Tuolumne County's history on display. The County Supervisors decided to fund $45,000 of the Tuolumne County Arts Alliance's $60,000 funding request. The arts alliance had requested an additional $15,000 this year to fund a local artist directory. The Supervisors requested that the agency look into having the beneficiaries of a directory fund that particular effort.
In addition, one community member came up and voiced opposition to the Supervisors allowing the Sheriff's Office to use grant funds to purchase a Med-Cat Emergency vehicle, and two people came up in support of the idea, citing public safety benefits. While some Supervisors acknowledged concerns about the public perception of having this type of vehicle, notably Evan Royce and Sherri Brennan, they were both very complimentary about the benefits to public safety, and improved search and rescue capabilities.
The Supervisors gave the staff the formal budget direction this morning, and it will be approved with a vote this afternoon.